Case Studies
Case Study 2: Community-led Wildlife Monitoring With Trail Cameras
Case Study 2: Community-led Wildlife Monitoring With Trail Cameras
Many Indigenous communities have observed changes in wildlife populations which has the potential to threaten the deep connections between animals and Indigenous food security, culture, and wellbeing. In response to both a declining moose population and a desire for more detailed information on biodiversity within their territory, Magnetawan First Nation and the WISE Lab co-developed a community-based wildlife monitoring program that prioritizes Indigenous values.  
Wildlife cameras were chosen as the best tool for monitoring, as community members wanted a non-invasive and cost-effective approach that could be installed and managed by the community independently. Additionally, wildlife cameras provide opportunities to prioritize community values by getting youth on the land, using camera photos for outreach activities, and exploring relationships among many species during monitoring. 
Collectively, Magnetawan First Nation Department of Lands, Resources, and Environment, youth from the community, and MSc students Kathryn Yarchuk and Claire Kemp, deployed 56 wildlife cameras across the reserve. Guidance was provided by community Elders and land-users to determine site accessibility, which greatly improved ease of navigating to challenging and remote sites. 
Cameras are placed in a grid design, covering various habitat types (ex. Rockland, forest, and wetlands) and targeting medium and large sized animals. At each site, the rate at which species are photographed can be compared across the reserve, providing insight into which areas are important for different animals. Based on community interests, this will be interpreted in the context of surrounding habitat and/or the distance to linear features such as roads, railways, and rivers, focusing especially on both moose populations and biodiversity.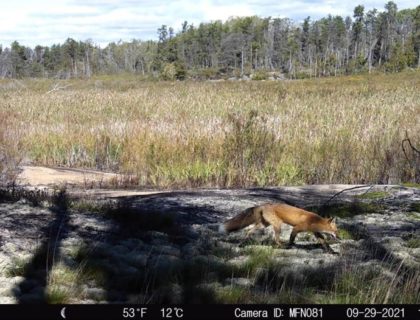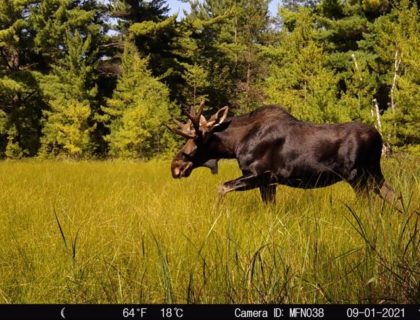 Community knowledge and values have been central to the development and undertaking of this project, at all stages. Though this work is built upon existing relationships between Magnetawan First Nation and the WISE Lab, continuing to grow and strengthen these relationships remains a priority, especially as new students, staff, and volunteers become involved. Importantly, these relationships are rooted in respect and reciprocity – and encompass connections among both human and non-human partners. Reflecting on how to express gratitude and act on this responsibility to one another and to the land, is embedded in the project. Spending time together on the land, picking up garbage, doing community outreach, and assisting with local ongoing projects and stewardship work are all expressions of this values-based, community focused partnership.